San Antonio Divorce Lawyers
No two people enter a marriage expecting to get divorced, but modern wisdom says that half of all marriages will end this way. Hundreds of thousands of people get divorced in America every year. The process is a difficult one for a number of reasons: adjusting to a new living situation, the expenses related to divorce, and figuring out property division are some of the worst aspects of splitting up to handle.
With that in mind, divorce does not need to be a hostile process. There will likely be some stress involved no matter how you choose to end your marriage, but a lengthy and vicious court battle is not your only option. At Higdon, Hardy & Zuflacht, L.L.P., we can modify the divorce process to fit your needs. If you do not want your relationship to get ugly, we can try mediation; if you are unhappy with your initial divorce arrangements, we can try a court modification. Our San Antonio divorce attorneys are open to try whatever it takes for you to lead a good life moving forward. We know that handling a divorce is not fun, but we are dedicated to making it as simple as possible for you and your family. Our goal is to handle any aspect of your divorce or family law case with care and compassion while getting you the results you need.
Divorce Practice Areas
There are many factors to consider before filing for divorce. For example, would you prefer to try a collaborative approach, such as mediation, or a more traditional process? What will happen to your property? How will child custody fit into your situation? These considerations have probably already crossed your mind, and an attorney can help you iron out a clear answer to help make your divorce as smooth as possible. Here are some of the additional areas related to divorce and family law we can help you handle:
Although it is possible to handle your divorce alone in Texas, it is not recommended. Especially if there is property or children involved, the circumstances surrounding your divorce can become heated and complex very quickly. A qualified attorney is able to act as an objective third party to keep mediation civil or to fight for your rights in the court.
Seven Grounds for Divorce in Texas
Texas Divorce Statistics
The divorce rate in Texas is actually lower than the national average. It has fallen steadily since 1981, with the exception of a spike in divorces in the early 1990's. If you are going through a divorce, it probably does not help to know that the rate of divorce is falling. However, there are still huge numbers of people getting divorced. We wanted to share these statistics to help you realize that you are not alone in this process. In fact, you are in good company, even if divorce feels like an alienating process. According to the Texas Department of State Health Services, the numbers for 2013 were as follows:
2.9 divorces per 1,000 residents
76,423 divorces reported
44.45 percent of divorces occurred in the 30 to 45 age group
59,135 children under 18 years of age were affected by divorce
54.8% of divorces involved couples with no children
When it comes down to it, marriages dissolve for a number of valid reasons. A knowledgeable San Antonio divorce attorney from Higdon, Hardy & Zuflacht, L.L.P. can give you the individualized attention you need to get your affairs in order. We will give you personal attention because we realize you are more than a statistic.
Types of Divorces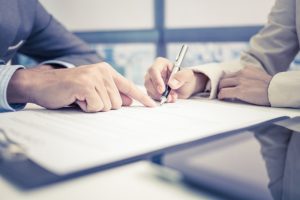 When people think of divorce, they often have an image of a courtroom with angry people on both sides engaged in a battle for everything from the kids to the yacht. Thankfully, this illusion is not the actual reality for the majority of divorces, even if the case goes to trial. With that being said, divorces do have a tendency to get heated and out of control. If you and your spouse are willing to avoid that, there are options available to you that could end up being less expensive and emotional. Texas is considered a mixed state, meaning it is possible to file a fault or no fault divorce, depending on your circumstances. In a fault divorce, you must have grounds for terminating the marriage, which tends to make proceedings more hostile. Keep reading to find out more about the types of divorces in Texas.
If you choose to file a fault divorce, you are assigning blame to your partner in order to exit the marriage. The primary reason people choose to file for a fault divorce is to earn a greater share of the property or alimony available in their case. To file for a fault divorce, you must claim one of the following six grounds for ending your marriage:
Adultery: Otherwise known as cheating, adultery occurs when your spouse has an extramarital affair.
Cruelty: This is the most common ground for divorce. It occurs when a person inflicts unnecessary physical or emotional pain on their spouse.
Felony conviction: If your spouse is convicted of a felony and imprisoned for a year or longer, it is grounds for divorce.
Abandonment: This occurs when your spouse leaves with the intent of abandoning you and is absent for a year or longer.
Living apart: If you and your spouse live apart or fail to cohabitate for at least three years, a divorce is possible.
Mental hospital: If your spouse is in a mental hospital for three years or more and it is improbable their mental disorder will improve, you can file for divorce on these grounds.
Many of these factors will also influence the amount of alimony and property the spouse filing for divorce will receive. For example, the court can refuse to grant a spouse alimony if they committed adultery during the marriage.
In Texas, it is possible to file for a no fault divorce. Doing so indicates that your divorce does not fall under the categories previously mentioned, but results from disagreement or conflict that can no longer be resolved. It is common to hear individuals cite irreconcilable differences when they file for a no fault divorce. If your divorce is no fault and potentially amicable, it is possible to use an alternative dispute resolution approach to your divorce. Our attorneys can help you through mediation or a collaborative divorce, both of which tend to be nicer, more communicative, and less expensive than traditional divorce methods.
Frequently Asked Questions
Every divorce is different, but many of them have some factors in common. When clients walk through our doors, they usually do not have a good idea of how the divorce process works. We have provided the answers to some of the most common questions we receive, and we encourage you to browse our website for more helpful resources regarding divorce and family law.
How much will a divorce cost me?
The answer to this question varies widely depending on your personal situation. According to Texas Legal, couples typically spend between $15,000 and $30,000 getting divorced. However, these costs typically result from long legal battles in a courtroom. If at all possible, you should try handling your divorce another way, such as through mediation. Seeking alternative and more amicable options can reduce the amount of money you spend getting divorced.
Does it Matter Who Files for Divorce First in Texas?
How do I know if mediation is right for me?
The benefits of mediation are numerous. Using this alternative method can save you and your spouse time, energy, and money. In addition, the process occurs out of the public eye, which gives couples the opportunity to focus on family instead of playing rough in the courtroom. Every couple is different, but if you do not have hateful feelings toward your spouse and are willing to work together, mediation is a good option to explore.
Why choose Higdon, Hardy & Zuflacht, L.L.P.?
Our attorneys are compassionate and willing to give your case the individualized care and attention it needs. We will not try to push you into the courtroom to earn money for our firm. Instead, we aim to be supportive and to encourage you to find the method of divorce that best meets your needs.
Contact Us
Divorce does not have to be a process of pain and suffering. Although you will probably experience some sadness at the end of a marriage, a gruesome or exhausting legal battle does not need to be part of the process. At Higdon, Hardy & Zuflacht, L.L.P., we focus on family law and have extensive experience working on divorce cases. Our goal is to make sure your needs and the needs of your family are met so you can move past this experience. Contact our San Antonio offices by calling (210) 349-9933 to learn more about what we can do for you.