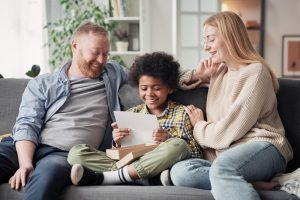 An increasingly popular form of adoption in the United States is "open adoption," where the child and adoptive parents maintain open communication with the biological parents. Adoptive parents may feel a responsibility for the child to know their birth family, and biological parents may want to keep tabs on their child's growth and development.
Even if you or the birth parents do not want an open adoption, figuring out how both sets of parents should communicate is crucial in determining what the child's family life will look like. In today's post, we'll list the best ways adoptive parents can communicate with biological parents, including how to open lines of communication and what lines to use for success.
Ask Your Caseworker
Whether or not you used an adoption agency, your caseworker is an essential liaison between each family during and after the adoption. They may be able to share information with you on the biological parents' preferences for communication, whether or not visitations should be supervised, and the different ways to make communication go smoothly for you, the birth parents, and most importantly, the child.
Keep Their Preferences in Mind
Biological parents may prefer to keep their communications with you as private as possible, perhaps not to reveal their identity to the child too quickly. Alternatively, they may want to keep semi-open or fully open communication with you or the child. For the sake of the relationship and for the child's wellbeing, it's best to respect their preferences.
If you're adopting an infant yet to be born, consider discussing how you'd like to communicate with the biological parents during the pregnancy. They should articulate what they'd like to hear about their child and through what medium. Be open about your own preferences and ask questions you may have as they come to you. The more you arrange before the birth, and the better you get to know the biological parents, the easier an open infant adoption will be.
Keep the (Cell) Phone Lines Open
If the biological parents desire to be more distant, you can still exchange cell phone numbers, email addresses, and social media account information. Modern technology has enabled simple and productive ways for you to share pictures, school projects, and your child's achievements with their birth parents. They are also the most discreet way to communicate if you or the biological parents don't prefer to keep a fully open adoption.
Visit Virtually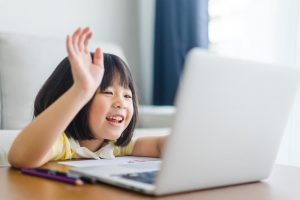 Through phone, Zoom, Skype, or FaceTime calls, you and the child can keep a closer relationship with the biological parents while maintaining some distance. These methods are also ideal for communicating after an interstate or international adoption.
You may or may not choose to supervise these calls or have your child pass you the phone to relay new information to the biological parents. However, some parents may want information more frequently, so synchronous calls may only be part of your communication plan.
Make In-Person Visits
If both families agree that the child should form as close a relationship as possible with the biological parents, nothing compares to the value of an in-person meeting in a public location. Try to make these meetings as lighthearted as possible, perhaps using an activity like a game night or bike ride as a catalyst, and gradually progress into fostering a deeper relationship. If personal topics get touched on too quickly, or if you don't keep a positive dynamic, the biological parents or the child might get uncomfortable.
Adjust to a Changing Relationship
As your child grows, your family will change, and so will the biological parents as you get to know each other better. Your communication plan will adapt to each changing situation. Parents may move out of state, or family structures may shift. The biological parents may desire a more profound relationship with the child as they grow or choose not to disclose too much about themselves. No matter what happens, everyone involved should always consider the child's best interest.
Consult an Adoption Attorney in San Antonio
In an adoption case, your attorney and caseworker are bridges between you and the birth parents. If you're pursuing or considering adoption in the San Antonio area, turn to the San Antonio adoption attorneys of Higdon, Hardy & Zuflacht, L.L.P. to help you navigate the legal processes you face. Call our office today at (210) 349-9933 for a consultation.