San Antonio Divorce Lawyers
The family lawyers of Higdon, Hardy & Zuflacht, L.L.P. have dedicated our professional lives to helping individuals in San Antonio with legal issues involving family members, from divorce to disputes and everything in between. Every partner at our firm is Board Certified in Family Law, a unique distinction that confirms our dedication to excellent legal representation.
Our unmatched experience can work for you and your family regardless of your specific situation. We handle a broad range of family law issues, from military divorces and child custody cases to child support disputes and alternative dispute resolutions. The challenging times you are going through have been trying enough—hire an attorney who can make life easier for you and has your best interests in mind. Contact our San Antonio divorce lawyers at (210) 349-9933 to see how having an ethical and competent team on your side can lead to great results.
Family Law matters are not easy. We are 100% committed to finding the best, least emotionally stressful, and cost efficient solution for our clients.
Matt
"With my marriage going south quickly, a good friend of mine gave me Harold's contact info. And I am so glad he did. After the initial consultation, I knew in... "
Marcus
"I hired Harold after getting a recommendation from a local attorney. I live in Corpus Christi. Harold came down on several occasions to meet with me one on one. He... "
Neill
"When divorce is the only option and your children and livelyhood are at stake, you must take every step to protect yourself and your children. Harold Zuflacht came highly recommended... "
Stephen
"Harold helped me get through my divorce and he helped me protect the most valuable asset in my life, my child. Harold remembered every tiny detail possible in my case,... "
Jesse
"Harold did an excellent job on my case. He was always prepared and he genuinely cared about me and my kids. Thank you, Harold. "
Malana
"This is by far, the hardest thing I have ever had to go through. Harold Zuflacht was referred to me by a business associate and I'm so thankful I ended... "
Troy
"We hired Mr. Zuftlacht because of a very difficult custody issue that arose after my divorce. He was extremely professional yet compassionate throughout the 20 months long custody battle. Not... "
Chad
"Harold was always professional and respectful of what I wanted to accomplish with the divorce, he never lost sight of the long term goal we set. He was patient with... "
Glen
"I have used a number of family and business law attorneys over the years, which gives me some basis for comparison. Mr. Zuflacht is, by far, the most efficient, well-versed,... "
Dorian
"Divorce is difficult. It's emotionally heartbreaking, terrifying, and one feels completely lost and bound by logistics of getting out of a marriage from someone who doesn't want to be married... "
Stephanie
"Hiring a lawyer is very hard. After hiring my first lawyer and going no where but losing everything was a possibility. So I went looking for a new lawyer. From... "
Child Custody Client
"(Amy Geistweidt) gets to know her client and their specific needs. She does a very classy job of representing her clients. I used her in my original divorce and then... "
Child Custody Client
"Ms. Geistweidt is always well prepared, extremely knowledgeable, ,and maintains the absolute highest level of integrity. As a result, Amy Geistweidt is well respected by the judiciary and her peers.... "
Family Law Client
"(Charles Hardy) is absolutely one of the best attorneys in the US. Has tremendous compassion, ALWAYS returns your calls immediately, listens to what you really are trying to accomplish and... "
Child Custody Client
"ABSOLUTE PROFESSIONAL! Amy is always available, responsive and candid. She is extremely thorough and passionate about what she does; so you can always rest assure she's taking care of you. "
Divorce Client
"My case was a difficult divorce case given the issues involved and Ms. Geistweidt guided me through the process and the end result was the best I could have hoped... "
Family Law Client
"Amy was professional, courteous and operated with an efficient manner while ensuring that all my questions and concerns were addressed. "
Family Law Client
"I first hired Ms. Geistweidt for my case where I was facing an indefinite support order. My situation was approximately 15 years of battling the levels of family law without... "
Divorce Client
"I completely trust/trusted Amy with the most important transaction of my life. I highly recommend others facing divorce do the same. She is a FANTASTIC attorney. Thank you, Amy! "
Family Law Client
"My case was a nightmare. I needed the best, and Charles Hardy was described as the top divorce lawyer in San Antonio. He is. If you have any doubts, you... "
Family Law Client
"Mrs. Geistweidt is a great attorney who is very knowledgeable in family law. She did a fantastic job with my case. I would highly recommend Mrs. Geistweidt for any family... "
Child Custody Client
"I recently retained Amy Geistweidt on a Monday afternoon with a court date on a Wednesday of the same week. Amy was able to get prepared for my case at... "
Child Custody Client
"Amy Geistweidt helped me in my divorce and child custody case. She proved to be a very powerful attorney. She is well knowledged, well versed, and gives you every ounce... "
Our Family Law Practice Areas
Family is the number one priority for most San Antonio residents, and the attorneys at Higdon, Hardy & Zuflacht, L.L.P. respect how important family law issues are for you and your loved ones. Whether you need a lawyer to take on your fight for custody, secure assets within a divorce, or help you with an adoption, you have come to the right place. Our attorneys value family just as much as you do, and we are prepared to support you with quality representation and personal attention. Browse our site to learn more about the cases we take on, or contact us by calling (210) 349-9933 for your initial consultation. Allow us to guide you through your legal journey with as much ease and empathy possible.
If you are considering filing for a divorce in Texas, it is important to retain an attorney to help you through the process. The next best thing you can do once you've hired a good divorce attorney is to learn about Texas divorce laws. Here is some of what you need to understand about divorce in Texas.
Texas Divorce Statistics
The divorce rate in Texas is actually lower than the national average. It has fallen steadily since 1981, with the exception of a spike in divorces in the early 1990s. If you are going through a divorce, it probably does not help to know that the rate of divorce is falling. However, there are still tens of thousands of new divorcées each year in Texas.
We want to share these statistics to help you realize that you are not alone in this process. In fact, you are in good company, even if divorce feels alienating at times.
According to the U.S. Centers for Disease Control and Prevention (CDC):
There were 1.4 divorces per 1,000 Texas residents in 2021
Texas also had the third-lowest divorce rate in the U.S. that year
Still, given the state's population, roughly 42,000 people got divorced that year alone
When it comes down to it, marriages dissolve for a number of valid reasons. A knowledgeable San Antonio divorce attorney from Higdon, Hardy & Zuflacht, L.L.P. can give you the individualized attention you need to get your affairs in order. We will give you personal attention because we realize you are more than a statistic.
Types of Divorces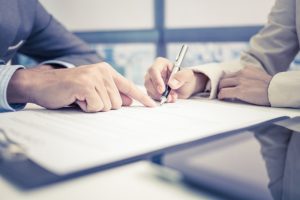 When people think of divorce, they often have an image of a courtroom with angry people on both sides engaged in a battle for everything from the kids to the yacht. Thankfully, this illusion is not the actual reality for the majority of divorces, even if the case goes to trial. With that being said, divorces do have a tendency to get heated and out of control. If you and your spouse are willing to avoid that, there are options available to you that could end up being less expensive and emotional. Texas is considered a mixed state, meaning it is possible to file a fault or no fault divorce, depending on your circumstances. In a fault divorce, you must have grounds for terminating the marriage, which tends to make proceedings more hostile. Keep reading to find out more about the types of divorces in Texas.
If you choose to file a fault divorce, you are assigning blame to your partner in order to exit the marriage. The primary reason people choose to file for a fault divorce is to earn a greater share of the property or alimony available in their case. To file for a fault divorce, you must claim one of the following six grounds for ending your marriage:
Many of these factors will also influence the amount of alimony and property the spouse filing for divorce will receive. For example, the court can refuse to grant a spouse alimony if they committed adultery during the marriage.
In Texas, it is possible to file for a no fault divorce. Doing so indicates that your divorce does not fall under the categories previously mentioned, but results from disagreement or conflict that can no longer be resolved. It is common to hear individuals cite irreconcilable differences when they file for a no fault divorce. If your divorce is no fault and potentially amicable, it is possible to use an alternative dispute resolution approach to your divorce. Our attorneys can help you through mediation or a collaborative divorce, both of which tend to be nicer, more communicative, and less expensive than traditional divorce methods.
The Seven Statutory Grounds for Divorce in Texas
In Texas, there are seven basic statutory grounds for divorce, six of which require you to find fault in your spouse if you are the one filing for divorce. Insupportability, the seventh, is a "no-fault" grounds for divorce, which is the most commonly cited grounds in most cases.
In Texas, the seven statutory grounds for divorce are:
Personality conflicts or other discord makes the marriage insupportable between the two individuals and there is "no reasonable expectation of reconciliation."
Cruelty on the part of one spouse makes living together impossible
Adultery
A felony conviction results in the imprisonment of one spouse for a year in any of the following: the Texas Department of Criminal Justice, another state's penitentiary, or a federal penitentiary
Abandonment for at least one year
The couple has been separated and has not lived together for at least three years
No-fault
You may be asking yourself: If no-fault is the most commonly-cited grounds for divorce, why would anyone choose to cite the other grounds, especially if it places the blame on the other party? Well, some individuals want to place the fault on their spouse because if the court agrees with the grounds, a more significant share of the property may be awarded to the person who is not at fault.
Filing For Divorce
To file for divorce in Texas, either you or your spouse must meet the State of Texas' residency requirements, as well as the residency requirements of the county in which you file for divorce. There are two components to residency in Texas, which include:
One person must have been a resident of the state for six months before the divorce filing
The individual who files the forms for divorce must have been a resident of that county for ninety days before submitting
If you are living out of state but want to file for a Texas divorce, the process might be slightly more complicated. Non-Texas residents who wish to file for divorce may do so by mail, but they need to check to see if the county in which they plan to file accepts divorce paperwork by mail. Certain counties require individuals to file the paperwork in person, so you may be forced to travel to the county to file your divorce papers. Texas also requires the filing party to be present at a hearing in court, so you should plan to return to the county for that as well. Because of these requirements, most people choose to file in the state and county in which they currently reside.
If you have been living in the county for at least 90 days, you can file a divorce petition with the District Court clerk's office in the county. For your convenience, we have included a link to the District Courts in Texas – maps.txcourts.gov.
The person who petitions for divorce is referred to as the "petitioner," and the spouse who did not file is referred to as the "respondent" in Texas. The respondent typically has 21 days from the date that they are served with the paperwork, or else the case will go into "default." If a case is considered to be in "default" the proceedings may move on without the respondent. If you have been served with divorce papers, it is critical that you consult with an experienced divorce attorney to protect yourself and your property and ensure that your case does not end up in default. Your San Antonio divorce attorney will advise you and will help you respond to the petition and will represent you in your case.
Frequently Asked Questions
Every divorce is different, but many of them have some factors in common. When clients walk through our doors, they usually do not have a good idea of how the divorce process works. We have provided the answers to some of the most common questions we receive, and we encourage you to browse our website for more helpful resources regarding divorce and family law.
The answer to this question varies widely depending on your personal situation. According to Texas Legal, couples typically spend between $15,000 and $30,000 getting divorced. However, these costs typically result from long legal battles in a courtroom. If at all possible, you should try handling your divorce another way, such as through mediation. Seeking alternative and more amicable options can reduce the amount of money you spend getting divorced.
The benefits of
mediation
are numerous. Using this alternative method can save you and your spouse time, energy, and money. In addition, the process occurs out of the public eye, which gives couples the opportunity to focus on family instead of playing rough in the courtroom. Every couple is different, but if you do not have hateful feelings toward your spouse and are willing to work together, mediation is a good option to explore.
Our attorneys are compassionate and willing to give your case the individualized care and attention it needs. We will not try to push you into the courtroom to earn money for our firm. Instead, we aim to be supportive and to encourage you to find the method of divorce that best meets your needs.
Respected by Our Peers
All of the partners at our firm are Board Certified by the Board of Legal Specialization in Family Law, and all of them have been recommended by their peers for inclusion in the Texas Super Lawyers listing. In addition, attorney Jim Higdon is Board Certified by the Board of Legal Specialization in Appellate Law.