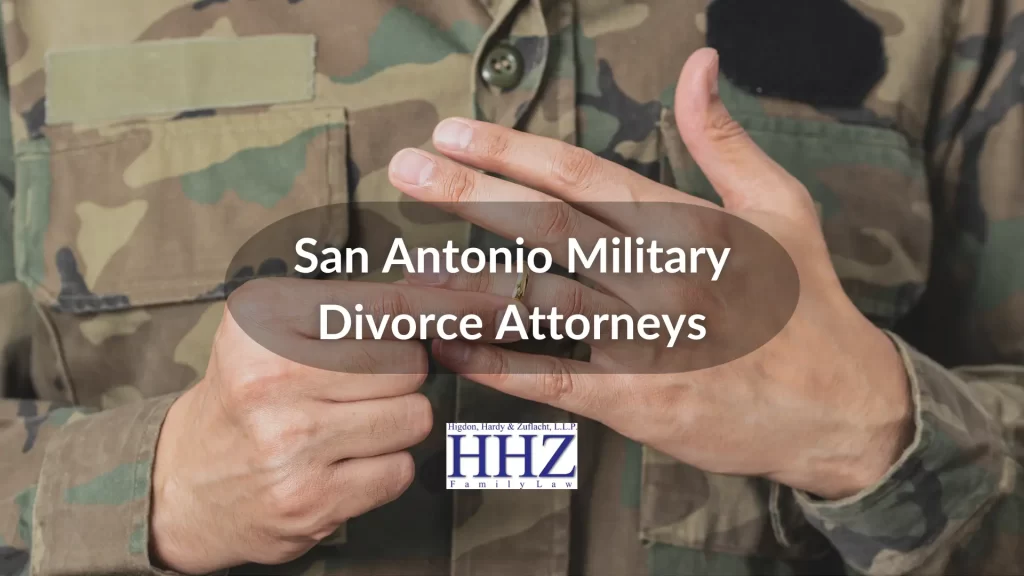 Military divorces are subject to greater scrutiny and regulation than their civilian counterparts. While regular divorce only falls under the state's jurisdiction, both state and federal courts will look at a military divorce. Some special rules and requirements make a military divorce a substantially different experience than a non-military one.
For example, one may have to travel back to their home of record for a court to be able to grant a divorce, while civilians can travel to the court where they live. To this end, the effect such a divorce has on one's life also varies from those going through a traditional divorce and can also introduce overwhelming stress and hardship.
At Higdon, Hardy & Zuflacht, L.L.P., we understand important and highly specific factors are involved in military divorces. An example of one of these factors is how military pensions or base reassignments play into such divorce discussions. A smooth transition into your new life requires professional and knowledgeable legal representation, and you'd benefit from Higdon, Hardy & Zuflacht, L.L.P. attorneys' experience with military personnel.
Do not enter divorce proceedings unprepared—hire a San Antonio military divorce lawyer today. Contact us at (210) 349-9933 to get the legal assistance you need.
Military Divorce Benefits
The benefits that Navy, Air Force, Marines, or Army members receive often represent a crucial part of all military divorce cases. Whether resolving issues related to GI Bill benefits, military pensions, or military health insurance, proper legal representation is necessary to defend your rights. At Higdon, Hardy & Zuflacht, L.L.P., we handle a range of military divorce benefits, including the following:
Military Retirement Division: During the divorce proceedings, discussing pensions and how to handle them is important, even if neither individual is close to retirement age. You should discuss the Uniformed Services Former Spouses Protection Act, regardless of which side of the table you are on.
Military Custody Issues: Custody issues are always complex, particularly when base reassignments or deployments come into play. Make sure to hire a legal team that understands the particular requirements regarding military service and custody resolution.
Without professional legal support, you may lose your home or ability to support your family because of your divorce. Divorce proceedings are naturally emotional and volatile cases, and, in this aspect especially, military divorce is no different. While dealing with the personal toll a divorce takes on you, let the attorneys at Higdon, Hardy & Zuflacht, L.L.P. take care of the legal details.
Military Divorce – The Details
In a divorce where one or two spouses are in the military, a service member's pension may be divided among the individuals involved. The Uniformed Services Former Spouses Protection Act (USFSPA) provides a federal statute for the military. It guides them to accept state statutes addressing issues such as military retirement pensions, child support, and spousal support.
Military couples should be knowledgeable about the role of USFSPA. For example, the USFSPA permits the states to classify military retired pay as property rather than income. Furthermore, it allows service members' spouses to collect up to 50 percent of the benefits. Even if retirement is not in either spouse's immediate future, they should always discuss military pensions in divorce proceedings.
The USFSPA does not automatically entitle a former spouse to a portion of the member's retired pay. The former spouse must have been awarded a portion of that member's military retired pay as property in their final divorce order. Also, to enforce orders that divide retired pay as property under the USFSPA, a member and former spouse must have been married to each other for ten years or more, during which the member performed at least ten years of military service creditable toward retirement eligibility (10/10 rule).
The amount of divided military pension is based on a formula that may be expressed in dollars or as a percentage of the member's retirement pay. Courts are not required to divide military pay, so it is especially important to contact a qualified lawyer to discuss the essential details of your divorce as soon as possible.
At Higdon, Hardy & Zuflacht, L.L.P., our San Antonio military retirement division attorneys will work hard to help you get the outcome you deserve with the least difficulty in your life. Please call our San Antonio office at (210) 349-9933 to discuss your case today.
Child Custody in Military Divorces
Child custody rules can be very complex, especially when one or more parent is in the military. The process can be tedious when the court must also consider potential deployments or base reassignments. Our family law attorneys at Higdon, Hardy & Zuflacht, L.L.P. can lead you through these uncertainties in child custody while maintaining the child's best interests and your custody concerns.
A "family care plan" is necessary whenever both parents are military members or a military parent has sole custody. This plan is to determine what will happen to the child or children of military members in the case of deployment. The family care plans must identify a short-term or long-term caretaker and care provision details. The short-term caretaker is someone you trust to care for your child if you are gone for less than 30 days, while a long-term caretaker would be necessary for any military deployment longer than 30 days.
The care provision details would refer to the general instructions on caring for the child or children. A military divorce attorney can greatly assist you in creating a family care plan. This plan is a legal document that determines the type of care for the child if one or both parents get deployed.
Important Statistics
According to a 2020 article on Military.com:
The divorce rates among active-duty troops have remained consistent for the past fifteen years.
From 2014 to 2019, the divorce rate among male and female service members across all branches was about three percent.
The divorce rate among female troops (both officer and enlisted) is traditionally higher than that of their male counterparts. In 2019, the divorce rate for female soldiers was seven percent, nearly triple the rate for male soldiers (2.5 percent).
The divorce rate is higher among enlisted troops, at 3.5 percent, compared to officers, at 1.7 percent. This distinction holds true regardless of gender.
The highest overall divorce rates, considering both genders and all ranks, are tied between the Air Force and the Marine Corps at 3.3 percent. The Navy has the lowest rate at 2.8 percent.
Most states have statutory provisions that address military parents' rights regarding custody and visitation. However, with increases in military deployment over the last decade, there has been an increase in custody and visitation issues involving military parents.
It is important to note that while some states have statutes and rules dealing with deployed parent custody and visitation issues, there are some gaps in protections for military parents involved in custody and visitation proceedings. For detailed information on the UDPCVA, it is important to consult a trained attorney who can advise you on these matters.
In a U.S. Supreme Court decision on May 15, 2017, the court ruled that state courts cannot order veterans to pay divorced spouses for the loss of his or her retirement pay caused by service-related disability benefits. The ruling in Howell v. Howell clarified that disability pay is not divisible as community property. As you can see, laws are changing, and it takes the knowledge and skill of a licensed attorney to assist in these types of military divorce proceedings.
Contact a San Antonio Military Divorce Attorney Today
When considering divorce, the attorneys at Higdon, Hardy & Zuflacht, L.L.P. are in a strong position to guide you through each step of the process. Contact a San Antonio Military Divorce attorney at Higdon, Hardy & Zuflacht, L.L.P. today by calling (210) 349-9933 and speaking with an expert legal representative with years of experience handling military divorce cases. Protect yourself by hiring a trained legal representative when embarking on the arduous and painful divorce process.