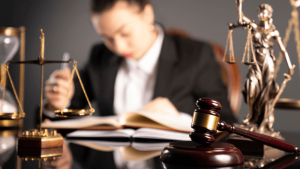 Family law matters are often complicated and never easy. The compassionate legal team at Higdon, Hardy & Zuflacht, L.L.P. is committed to helping you find the least emotionally stressful and best cost-effective solution to your legal challenges. Our dedicated professionals have spent their careers helping individuals with family law issues ranging from divorce to adoption and everything in between.
Each partner at our firm is board-certified in family law. This is a unique distinction that demonstrates our commitment and dedication to excellent legal representation for our clients. We have experience handling a broad range of family law issues. This includes military divorces and alternative dispute resolutions.
Our legal team has your best interest in mind. During these challenging times, you've been through enough. You want an attorney who can make life easier for you and will offer support. Contact our Selma, Texas, divorce attorneys at (210) 349-9933 today. Put an ethical and highly competent team on your side.
Our Areas of Practice
Our legal team is dedicated to helping families solve their disputes. We are committed to using our knowledge of the law to secure your future with the following types of cases:
Divorce: The breakup of a marriage can be one of the most difficult experiences of your life. Our professional legal team is committed to providing you with experienced representation and helping you find a fair resolution.
Child Custody and Support: Parents often cannot agree on the custody and support of their children during a divorce. Our expertise in mediation and negotiation can help develop an agreement that keeps your child with you. Child custody is an emotionally complex challenge, but you are not alone.
Spousal Support: Spousal support is a monthly payment paid to one spouse to provide financial assistance after a marriage has ended. Several factors are used to determine what is reasonable and appropriate. Our legal team keeps your interests in mind and works tenaciously to ensure you receive what you're legally entitled to by law, or that you pay no more than is required by law.
Adoption: The adoption process is often confusing and usually emotionally overwhelming. Our experienced attorneys can help walk you through the process.
Modifications: When your divorce is finalized, you may need to modify the divorce order. Our qualified legal team can help make sure that your rights are protected and the agreement matches what you should be entitled to.
Pre- and Postnuptial Agreements: It may be wise for couples to reach a financial agreement regarding their assets and debts before or just after they are married. These agreements can help protect your assets in the event of an unforeseen circumstance.
Military Divorce: Military divorce can be challenging since the law allows for the divorce to be filed in the state where the service member is stationed, the state where they claim legal residency, or the state where a non-military spouse resides.
Alternative Dispute Resolution: Issues can often be resolved without going to court. Alternative dispute resolution (ADR) is a process where a neutral party assists the two parties in a dispute to reach an agreement and avoid litigation. Two types of ADR are mediation and arbitration.
Property Division: Property division in a community property state like Texas can be challenging. However, with aggressive representation, you may be able to keep what is most important to you.
Private Judging: Private judging is a legally binding process. Two parties can hire someone who is an authority in the legal area of the dispute. This individual is often a former judge or bar-certified attorney. The two parties present their case before the private judge who passes a final verdict.
Med-Arb (Mediation-Arbitration): This process is voluntary and uses both mediation and arbitration. A mediator tries to negotiate an agreement between both parties, if unsuccessful, the case is moved to arbitration. An arbitrator is usually a person trained in family law who makes a final decision on the issue.
Types of Divorce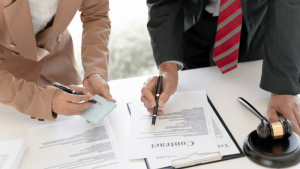 There are several ways in which a divorce can be finalized in Texas. Even when cases go to trial, the media image of angry people engaged in battle is often not the reality. However because the process is often emotional and contentious, it can get heated and out of control.
In Texas, you can file a no-fault or a fault divorce, depending on your circumstances. A fault divorce assigns blame to one partner so the other can leave the marriage. The primary reason used for a fault divorce is to gain a greater share of the assets. However, to be successful, there must be one of six grounds that can be proved to end your marriage. These include:
Adultery
Cruelty
Felony conviction
Abandonment for at least one year
Living apart for at least three years
Mental hospital admission for three years or more
These factors can also influence the division of assets during the divorce proceedings. For example, the court may refuse to grant alimony to a spouse who committed adultery.
Texas law also allows no-fault divorce. The assumption is that there is disagreement or conflict that cannot be resolved but does not require proof on any of the six grounds mentioned above. If your proceedings are potentially amicable, you may consider an alternative dispute resolution. Our legal team can walk you through a mediated or collaborative divorce.
How to File for Divorce in Texas
It is highly recommended that you have a divorce attorney represent your rights in formal legal proceedings. Divorces can be confusing and intimidating, and the results have a significant impact on the rest of your life. To file for divorce in Texas, two components of residency must be met under Texas law. These include:
One person must have been a resident for six months before filing a divorce
The individual who files the divorce must have been a resident in the county for at least 90 days before submission
After living in the county for at least 90 days, you can file a petition with the district court clerk's office. The person who initiates the divorce is referred to as the "petitioner," and the other spouse is referred to as the "respondent."
There are two ways to serve divorce papers to your spouse. You may pay a fee to have a sheriff, process server, or clerk serve the paperwork. You might also use a "waiver of service" in instances where the spouse does not want to be served and agrees not to contest the divorce. The parties must sign the waiver of service before a notary.
Typically, the court gives the respondent 21 days from the date they are served paperwork to respond. Otherwise, the case goes to default, which allows the proceedings to move forward without the respondent. Therefore, if you have been served with divorce papers it is crucial that you protect yourself and consult with an experienced divorce attorney.
Contact Higdon, Hardy & Zuflacht, L.L.P. for Your Family Law Needs
If you are facing a divorce, modification of your divorce decree, disagreements over child custody, or other family law legal challenges, you want an experienced and compassionate legal team on your side. Our team recognizes that every person has a unique story. We give you the individualized care and attention you deserve throughout the process.
Our mission is to support you while we work to achieve the best resolution for your needs. We hope to achieve this through negotiation. However, when necessary, our attorneys are willing to fight aggressively and tenaciously in court to represent your rights.
Call Higdon, Hardy & Zuflacht, L.L.P. today to schedule an initial confidential consultation. We recognize that using ADR can save you and your soon-to-be ex-spouse time, energy, and money. It is our goal to finalize your divorce without a protracted legal battle. Contact us today at (210) 349-9933 and put our highly motivated and supportive team on your side.